Having trouble finding the eggs in Jamaa? Click here for a walkthrough.
Wey Hey! There are two new items, one is the RIM! Which is the Rare Big Bow!!
aaaand the Picket Fence which is for NON MEMBERS!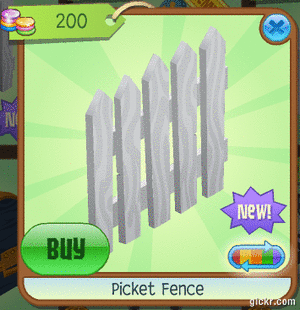 Comes in some cute spring colors too!!!
The DE, as always, posted about the RIM
You'll always be in first-place when you're wearing this RARE BIG BLUE BOW offered for this week's Rare Item Monday. The blue ribbon is a symbol of something of high quality. And comes from Cordon Bleu, which is French blue ribbon. These ribbons were worn by a particular order of knights when taking first place in athletic or other competitions. And that's how blue ribbons came to be awarded for first place in many other events, such as county and state fairs.
Be sure to watch the new vid in Sarepia Theatre!
A
NIMAL
J
AM
S
ECRETS
Take a look at these gems by the game Gem Breaker. Is this how gems look BEFORE mined into gems, AJ's currency? Do they get gems from Mt. Shiveer??