Having trouble finding the eggs in Jamaa? Click here for a walkthrough.
*Sniffs air* Someone better call a doctor... 'cause I got SPRING FEVER!
Ayyyyy Jammers! I got new music and the Egg Hunt is BACK UP AND RUNNING! Anywho, there's a new item, called the Ship's Helm Table!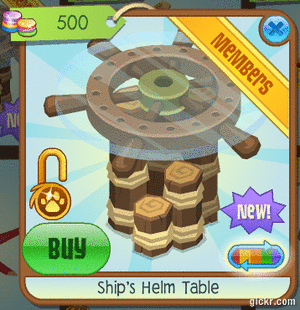 There are a ton more AWESOME items for sale too!
I just wanted to point out two things in the Art Studio. One thing is a clay stain I've been wondering about for a while... it to me it looks like a person!! I might just be going craaaaazy..,, but still I think it's cool!
Another thing is this picture by the deer painting by the entrance. It looks to me like an OCTOPUS or SQUID! you can faintly see the eyes and it's yellow body. This is a really cool little sketch that I JUST NOTICED
x3
Printie~~~~
P.S I had all these songs stuck in my head for the past week, I hope you enjoy them
:)