Click here to partisipate in the Blog Egg Hunt!
Having trouble finding the eggs in Jamaa? Click here for a walkthrough.
Hi Jammers! There are two new items! The Tutu, for members, is in Jam Mart Clothing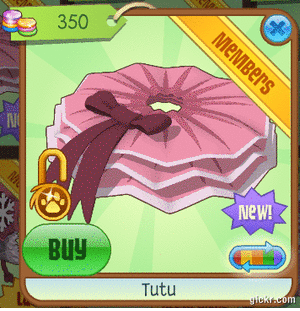 And the Surfboard, also for members, is avalible in 9 colors in Jam Mart Furniture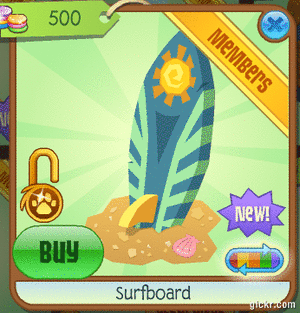 LEETS move to EAGLES! The DE posted about 'em:
Have you been wanting another high flying pet to explore Jamaa's sky-scapes? Hatch yourself a new pet eagle from the Diamond Store. Eagle parents share parental duties including time on the nest until the eggs hatch. One of the parents is almost always with the nest. The eggs need to be protected from squirrels, other birds, and the weather. Once the eggs hatch, parents will move around the nest with talons in tight balls to keep from giving their eaglets an accidental poke! The eaglets grow very fast. They gain about a pound a week! Within three weeks they are one foot tall and their beaks and feet are nearly adult sized. They start flying soon after.
And the new calender features 'em:
Have you guys seen the new little reminders in the corners of items on clearance?? It tells you how many days you have left to buy them!
THE EGG GITCH HAS BEEN FIXED! Next time you log in, you'll get your prize!
Speaking of pop-ups like that, when someone locks their den, everyone will be kicked out!
MORE EAGLES!!! I got a pet eagle. They are ADORABLLLLEE
When you walk, they fly fast with you:
If you click on them, they will make a cloud. Mine makes 3 clouds so far x3
F
IND
I
T
F
RIDAY
Last week's winner was...
AJpaleggs! Good job!

Now where in the Jamaa World is this?!
P
ET
P
ARADISE //
G
LITCHES
G
ALORE
I found a really weird glitch with the Pet Eagle! Look at it's rare items, avalible in the Pets Only Party or Play as Your Pet Party.
Now put them on and THEY CHANGE COLOR and or SHAPE!
Wig now has spider, egg changes color, weird thing on top of band instead of circle and the bandana changed color!
WEIRD but cool! It also has a glitch of the regular head items with the Eagle, try it out o.o
New music!!
BLOG EGG HUNT!