I WILL BE GONE FRIDAY AFTERNOON. I WILL BE BACK ON TUESDAY.
Hey Jammers! Lots 'o news today. First off, (one of) the new item of the day is a Spiked Collar...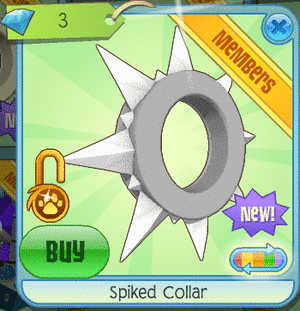 The Callender has also been posted:
Best Dressed is GEMS x2!!! Time for a ton of gems >:)
In Brady Barr's Theatre there is a new movie!!
Some of you have been wanting to know how to get your questions into Brady or Tierney, I'll post a how-to later :)
Also, CHECK OUT THE NEW SHOP :)
It's just behind the waterfall in Kimbara Outback
It's kind-of small, a tight fit. But it's cozy!
There are also 3 new items!!