Possible Blog Egg Hunt?? Read To find out.
Hi Jammers! There is a new item in Jam Mart Clothing: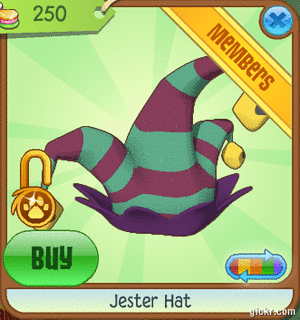 The Jester Hat! It's probably here for April Fool's day
:3
There isn't a New symbol on it, but still it's new!
The DE has a Creature Feature
Possible Blog Egg Hunt???
Well I did something like this during
Night Of the Phantoms
. Now we can switch it up! Maybe,
if you guys like the idea
, I'll hide the eggs that AJHQ hides around Jamaa in the pages I have on this blog! The egg you are looking for would look something like this:
It will be transparent and most likely at the top or bottom of a page. If you click it you will be directed to a page with an internet prize... Like a graphic, Den Idea, NTT... ect :3 .
ALSO! I was thinking I "hide" a couple eggs in a scene in AJ on a daily post and whoever finds the egg(s) will win a REAL AJ prize (like a mini rare
:3
)
It's up to you guys, would you like to do this???